Teeth Whitening – Buffalo Grove, IL
Helping Teens Smile Brighter
Does your teenager feel self-conscious about their smile? Do they tend to hide from photographs or avoid social gatherings? It may be that their teeth are stained or appear slightly yellow. This can be the result of poor oral hygiene, dark-colored foods and beverages, or even genetics. No matter the reason, our team at Capezio Loiben Pediatric Dentistry is here to deliver optimal solutions for teeth whitening in Buffalo Grove. Contact us to schedule your teen's appointment today.
Who is a Good Candidate for Teeth Whitening?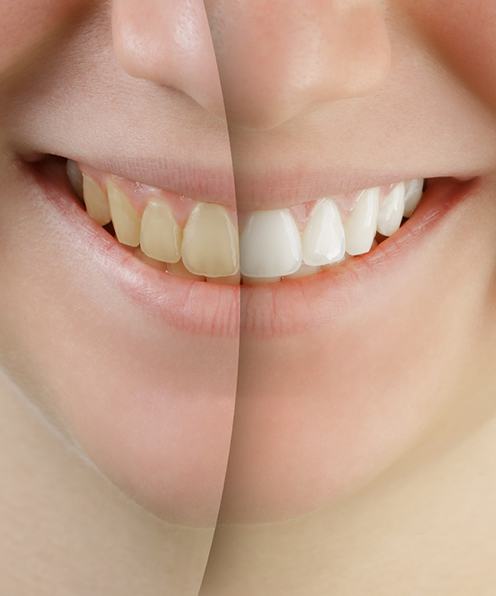 Candidates for teeth whitening are typically those who have stained or discolored teeth that stem from medications taken, consuming too many dark-colored foods and beverages, poor oral hygiene, or simple plaque and tartar build-up that remains after orthodontics are removed.
Teenagers who are interested in this treatment option must possess good general oral and overall health, which their cosmetic dentist in Buffalo Grove will determine during an initial consultation. Depending on the severity of the stains (intrinsic or extrinsic), we may recommend at-home whitening kits.
How Does Teeth Whitening Work?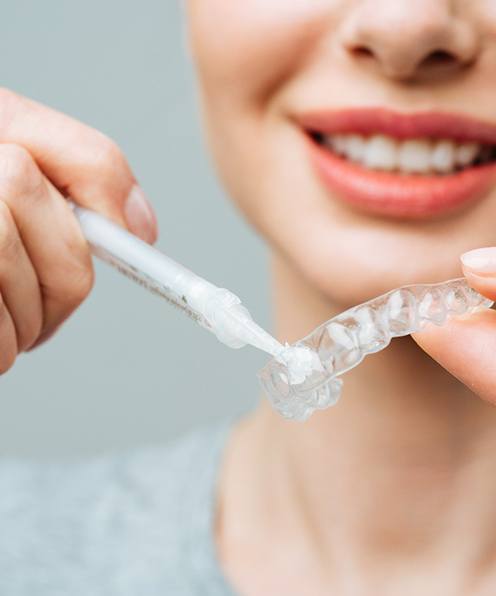 Teeth whitening is a safe and suitable cosmetic treatment for adolescents and adults. But only if there is a commitment to taking proper care of one's smile afterward. While there are many ways a person can whiten their smile, the same goal applies – to rid stains above and below the surface, creating a whiter, brighter appearance.
At-Home Teeth Whitening
With at-home whitening kits, our team will provide your teenager with customized whitening trays that fit comfortably inside their mouth. Made according to your child's impressions, these trays are combined with a professional-grade bleaching gel that contains ingredients that are designed to eliminate stains while preventing enamel erosion and sensitivity. Within about two weeks, your teen should notice a significant difference in the look of their smile.
Tips for Maintaining Your Brighter Smile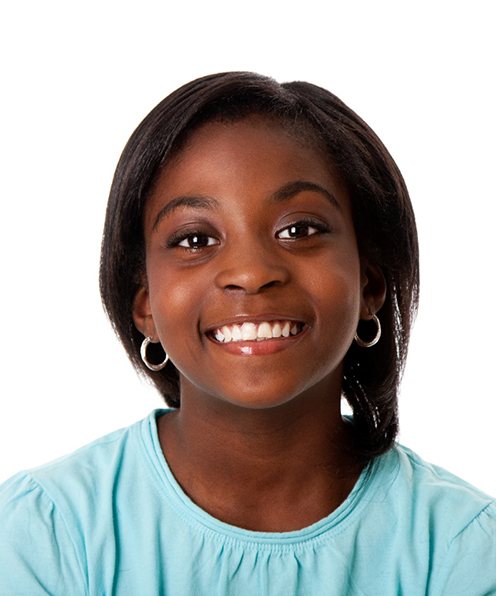 Teeth whitening, unfortunately, is not a permanent treatment option; requiring patients to maintain their results by following various guidelines and instructions, such as:
Practicing optimal oral hygiene habits at home that include brushing twice daily, flossing at least once a day before bed, and rinsing thoroughly
Maintaining regular six-month general exams and cleanings
Limiting your teen's consumption of dark-colored beverages and foods to prevent staining
Giving up bad habits that can wear down tooth enamel and expose the underlying layers (i.e., eating ice, biting fingernails, chewing on inanimate objects)
Giving up smoking and the use of tobacco products
Giving your smile a touch-up should your teen notice some slight discoloration over time
Understanding the Cost of Teeth Whitening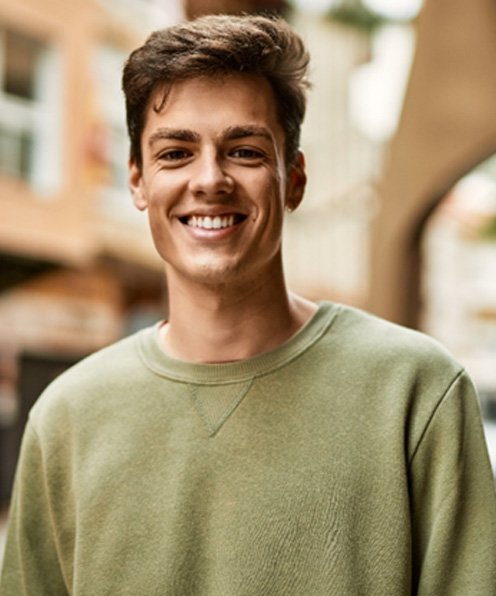 Are you thinking about letting your teen get professional teeth whitening? Before moving forward with the process, you likely want to know how much it'll cost. Since the overall price will vary from patient to patient, your teen must have a consultation with our team to get an accurate estimate. By getting a better understanding of the factors that impact the final price tag, you can know what to expect before your teen's smile transformation. Click the button below to learn more about the cost of teeth whitening in Buffalo Grove!
Factors that Affect the Cost of Teeth Whitening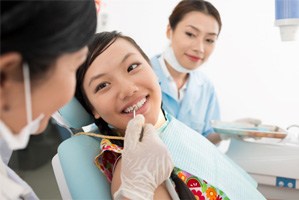 Teeth whitening usually comes at one set price. However, there are many aspects regarding the particular patient that can make the treatment more or less expensive. Some of those elements include:
Preliminary Treatments. This usually costs anywhere between $400 and $800.
Extent of Discoloration. Severe discoloration may require multiple sessions to achieve the desired results, which can lead to a higher cost.
Cause and Location of Staining. Maybe the staining is due to dark-colored foods or certain medications. Depending on that, your teen's treatment may cost more or less.
Types of Teeth Whitening: What Do They Cost?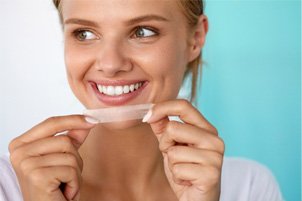 Each type of teeth whitening treatment comes at a different cost. Here's a general idea of what you can expect from the following options:
•In-Office Whitening. This usually costs anywhere between $400 and $800.
Take-Home Whitening Kits. For this option, you'll receive a custom-made set of trays and professional whitening gel to use at home. Altogether, this tends to cost a few hundred dollars.
Store-Bought Trays. These plastic trays can be found at most stores or pharmacies with prices of around $100 or less.
Over-the-Counter Products. Strips, gels, and whitening toothpaste are the cheapest option, with prices ranging between $7 to $40 a box.
Fast Teeth Whitening vs. Inexpensive Teeth Whitening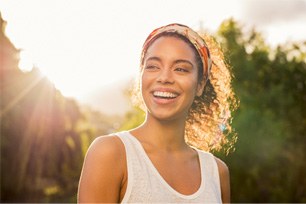 Simply by looking at the options above, you may wonder why professional treatments are so popular. Although your wallet will appreciate a more affordable solution, you must consider the impact it'll have on your teen's smile. You get what you pay for when it comes to cosmetic dentistry, which means cheaper options may not give your teen the results they expect.
The products used by our team at Capezio Loiben Pediatric Dentistry are much stronger than anything you can find at the store. As such, we're able to deliver much better and more noticeable results for your child's smile. In addition, we'll examine your teen's mouth before proceeding with whitening treatment to ensure they're in good health. Overall, you'll end up saving plenty of money in the long run because your child won't need frequent touch-ups.
Teeth Whitening FAQs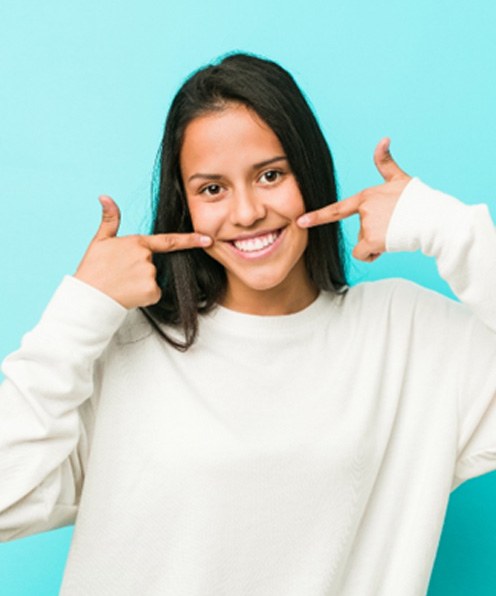 Although you know a bit more about teeth whitening in Buffalo Grove, you may still be hesitant to allow your child to undergo treatment. As a parent, it's only natural to have questions about the process, especially since your little one will be the one in the treatment chair. Our team at Capezio Loiben Pediatric Dentistry is prepared to address all of your concerns. To help you out, we've compiled a list of answers to some frequently asked questions below. Don't see what you're looking for? Give us a call !
Does Teeth Whitening Hurt?
It's normal for patients, especially younger ones, to have concerns about the potential discomfort associated with dental treatments. These fears could make them hesitant to undergo any procedure! However, when it comes to professional teeth whitening, we will tailor the service to meet your child's specific needs, greatly reducing the likelihood of sensitivity.
If they have teeth that are more prone to sensitivity, make sure you communicate this to our team. We can provide recommendations and accommodate your child's needs. Spacing out the treatments, avoiding hot beverages, and using a specialized toothpaste can all help minimize the unpleasant sensation.
What's the Difference Between Professional and Store-Bought Teeth Whitening?
Both professional whitening treatments and store-bought alternatives aim to eliminate stains and discoloration. However, the similarities end there.
Over-the-counter whitening kits typically offer generic trays and diluted brightening gels, whereas professional treatments are fully customized to meet each patient's specific smile goals. Professional teeth whitening conducted by our team is not only safe and effective, but can also deliver the dramatic results desired. More often than not, we can achieve stunning results in just a single appointment!
Does Teeth Whitening Work on Dental Crowns?
Unlike natural teeth, dental crowns cannot be whitened. Attempting to whiten them with gels or other whitening methods can actually weaken the bond between the tooth and the crown, leading to potential complications.
During the initial consultation, be sure to communicate your child's dental history so we can determine the best course of action. The good news is that there are multiple ways to prevent discoloration, such as practicing good oral hygiene and limiting the consumption of dark-colored liquids.
Is Teeth Whitening Permanent?
No, teeth whitening is not a permanent solution. Results can generally last for a few months to a few years, depending on your oral care habits. Your child can extend longevity by maintaining a consistent at-home oral hygiene routine, regularly attending dental checkups and cleanings, and avoiding detrimental habits. Additionally, touch-up treatments are available to help maintain a pearly white smile over time.