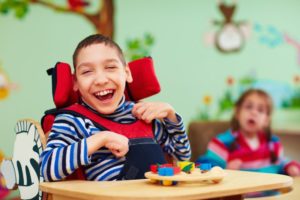 If you have a child with intellectual or physical disabilities, you already know that keeping your little one happy and healthy is a balancing act. Pressing medical and developmental issues naturally take top priority, but that doesn't mean you should put their oral health on the backburner. Children with disabilities are at a higher risk of developing certain dental problems that could eventually impact their overall health and quality of life. Fortunately, there are a few things you can do to pay a bit of extra attention to that special smile and make sure it gets the care your child deserves. Read on as your Buffalo Grove children's dentist goes over what to be on the lookout for.
Unique Dental Challenges for Children with Disabilities
Any parent can tell you that getting a child to take care of their teeth and gums isn't always easy. However, there are a unique variety of challenges that children with disabilities face when it comes to keeping oral health issues at bay.
Genetic disorders (like Down Syndrome) may cause delays in tooth eruption, misshapen teeth, and congenitally missing teeth. Over time, these issues can lead to crooked teeth and bite misalignment.
Intellectual disabilities or Cerebral Palsy are often connected with habitual teeth grinding and bad chewing habits, which can wear down the teeth and cause them to feel sensitive.
Immunocompromised children are more likely to develop gum disease and dental infections, and the immune system is responsible for helping keep these painful and serious issues at bay.
Certain medications that your child may be taking could be high in sugar or cause dry mouth, both of which lead to a higher risk of tooth decay.
Behavioral disorders and physical challenges can make tasks like brushing and flossing more time consuming and frustrating.
Remember: You're Not Alone
Even though you may feel overwhelmed or anxious about your child's oral health, don't forget that you're not alone! Pediatric dentists have specialized training not only to care for the unique dental health of children, but also that of kids with intellectual and physical disabilities. From their office environment to the accommodations they can provide, a pediatric dentist will go above and beyond to help make caring for your child's special smile as easy, comfortable, and effective as possible. They'll answer all your questions, give you personalized advice, and help set your little one up for a lifetime of happy, healthy smiles.
About the Practice
At Capezio Loiben Pediatric Dentistry, we are dedicated to caring for all growing smiles in Buffalo Grove and the surrounding communities. Our specialty office is proud to have two highly experienced pediatric dentists and a team of friendly and knowledgeable dental professionals. We are happy to spend the time to get to know you and your child so we can provide the best dental experience possible. To learn more, we can be reached online or at (847) 459-9100.