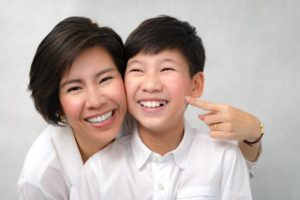 With social media, Zoom calls, and other modern pressures, it seems like kids are becoming more self-conscious about their appearance at a younger age than ever before. In fact, 24 percent of child care professionals have unfortunately reported children as young as five years old expressing dissatisfaction with how they look.
In an effort to help their kids feel better about themselves, well-meaning parents may consider getting certain cosmetic treatments, such as teeth whitening. However, most cosmetic work should be postponed until the child is older. Keep reading to learn why teeth whitening for kids can be risky, when it's okay to whiten their teeth, and what else kids can do to achieve a brilliant, confident smile.
Why Shouldn't Kids Get Their Teeth Whitened?
First of all, most baby teeth are naturally white and bright, but the enamel in these primary teeth is also very thin. Whitening treatment involves high concentrations of hydrogen peroxide, which isn't a problem for thicker permanent teeth but can lead to problems for smaller ones. As a result, whitening treatment can cause these teeth to be more sensitive to hot and cold substances, in addition to increase the risk for cavities. In other words, whitening your kids' teeth too soon could give them significant discomfort.
In addition, if your child needs to undergo traditional orthodontic care, teeth whitening treatment is unnecessary beforehand. The brackets attached to teeth can affect their coloration, which is why many dentists perform teeth whitening after the brackets have been removed.
When Is It Safe to Whiten Teeth?
Although there may be rare exceptions, it's best to wait until after your child turns 14 years old, has lost all baby teeth, and has completed all orthodontic work. At this time, their teeth should be strong enough to withstand the concentrated hydrogen peroxide, under the supervision of a pediatric dentist, with little or no sensitivity.
How Can Kids Get Whiter Teeth?
Up until they have reached the appropriate age, kids can focus on good oral hygiene if they want to have whiter teeth. Brushing and flossing their teeth every day helps remove unsightly stains as well as cavity-causing plaque. Regular dental visits also provide an opportunity for a professional to polish kids' teeth, helping them look brighter and stronger.
In the end, teeth whitening and other cosmetic procedures are not meant for altering kids who are still growing and developing. There are gentler ways for children to get healthier, whiter teeth without putting their smile at risk. If you need extra guidance, talk to your pediatric dentist, who is more than happy to help your child feel confident about their appearance.
About the Practice
At Capezio Loiben Pediatric Dentistry, we create meaningful relationships with our patients. Unlike other pediatric dentistry offices, we are willing and happy to continue treating our young patients into adulthood. We take the safety and health of our patients seriously, and we do everything we can to educate them on good oral practices at home. Dr. Nicholas Capezio and Dr. Ted Loiben come from different professional backgrounds but both love playing a role in the growth and development of their patients. If you would like to learn more about whitening your child's teeth, you may schedule an appointment here or by calling our office at 847-459-9100.